Bands in Hamburg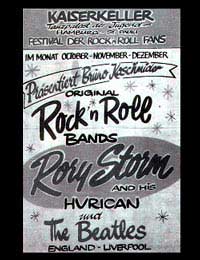 The city of Hamburg and its clubs feature heavily in the legend of the Beatles. But they were far from the only band to play there. In fact, during the early part of the 1960s it became both a proving ground and an apprenticeship for so many British musicians. The hours were long and gruelling, but it brought them together as a group and tightened and sharpened their sound – as well as offering the kind of freedom they'd never experienced at home.
Why Hamburg?
The convergence of the Hamburg club scene and aspiring Biritsh rock bands came about for two reasons. A port city, Hamburg had literally thousands of visitors, seamen eager to let off steam in the clubs on the Reeperbahn, the red light district. What they wanted was loud, energetic music – rock'n'roll. But rock had come later to Germany, and there simply weren't the musicians able to provide what the club owners needed. In Britain there was a wave of bands, many from the provinces, who were eager to play, but who had few outlets, as there was no club circuit in most areas where they could hone their skills night after night for musicians who were young, eager and ready to play anywhere. The two ideas coming together was serendipity, and it happened due to agents like Alun Williams, who knew the Hamburg club owners but represented bands in Britain.
What The Bands Found
Musicians didn't live the high life in Hamburg. Their contracts would run for months at a time with low wages and accommodation in the back rooms of the clubs, with living conditions little more than primitive. They were expected to play for several hours every night and "mach schau" – make a show of it all. Perhaps the amazing thing is that so many took to it like ducks to water. But they were also exposed to an entirely new style of living, around prostitutes and strippers, with lots of alcohol and drugs as part of the menu. It was the Bohemian life many of them had dreamed of, a far cry from the English suburbs. Above all, they were being paid to play and learn their craft as they went.
The Bands
The Beatles were the most famous of the British bands to play Hamburg (they made several visits between 1960-62), but several others from Liverpool were there, including Rory Storm and the Hurricanes, the Jets as well as many from all over Britain – Cliff Bennett and others. The Beatles started at the Indra, but soon moved to the Star Club (the other two venues were the Kaiserkeller and the Top Ten Club).
The music was largely American rock'n'roll, plus anything else they knew, and the musicians soon learned to loosen up. To fill the long hours on stage, they needed to jam, to handle a rowdy crowd – and develop a wide repertoire. So you had the Beatles, for example, playing not only Chuck Berry songs, but a rocked up version of My Bonnie Lies Over The Ocean. In the hothouse atmosphere of Hamburg, everything was grist to the mill.
The Clubs
The clubs were basic. Their function was really to sell alcohol to those who came in, that was where the profit lay. The entertainment kept patrons in, and kept them drinking, so the longer bands entertained, the more booze was sold. It was all about profit; there was certainly no thought that they were nurturing the next generation of British musicians, and little attention given to their welfare.
What The Musicians Gained From It
Hamburg turned amateurs from Britain into seasoned professional musicians. By necessity, they learned fast and came home assured that they could handle anything and play virtually anything. They had the chance to bond in a way they'd never have had in Liverpool, London or Birmingham and developed a musical sophistication that went beyond their colleagues who hadn't travelled. Although few of them would become British stars – that depended on too many outside factors – they came back as jobbing musicians who'd made their living from music without a recording contract, a rare, rare feat in those days. But that was, perhaps, the great achievement of Hamburg. It gave these young men the chance to earn their living by their instruments and to usher in the next wave of British musicians.
You might also like...
hitchhikers 65 they played there
mags
- 15-May-23 @ 10:40 PM
is there a list of bands that played during the sixties anywhere. I am looking for bobby Bobby and the blue diamonds
harry
- 15-Sep-19 @ 9:43 PM
Given that there really wasn't a club scene in Britain when bands could play a great deal and hone their skills, the chance to play Hamburg, with lengthy sets every day, was a blessing. Not only did it offer welcome practice and the chance to try new things, it also gave the musicians the opportunity to earn a living from their music.
memories
- 24-Sep-12 @ 12:08 PM
Your point about giving the bands experience is well made. They needed that and they needed it in a wild setting. In the end, Hamburg set the tone for British rock'n'roll in the 1960s. They went over imitating American bands and came back with sounds of their own. It was a catalyst that's been underrated in the history of British rock.
Anthony
- 30-May-12 @ 1:08 PM