Female Pop Stars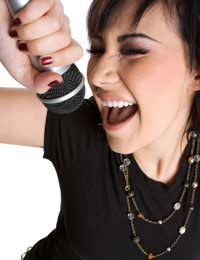 The 1950s was definitely the period of the male pop star, the rocker who appealed to girls. But the 1960s brought a change, with the rise of the females. It might have been because there was a generation that had come of age with the music, or possibly the powers that be recognised there was an audience for female singers.
They stand apart from the rise of the beat groups, some of them more in the tradition of the American Brill Building singers such as Carol King. Others were discovered, much as the male forebears had been, and groomed. A certain number of them found success, in several cases ongoing.
Petula Clark
Although she was a major star in the 1960s with hits like "Downtown," Pet Clark was an anomaly among the female pop stars. She'd emerged initially as a child star a number of years before, and had maintained her stardom as a singer through the 1950s before reinventing herself as a mainstream pop singer. She was decidedly older than the norm, but had a strong of hits over a few years before fading away again, although "Downtown" remains an oldies classic.
Helen Shapiro
Londoner Helen Shapiro was discovered at the age of 13, and a year later, in 1961, she had two major hits, one of which, "Walking Back To Happiness," has gone on to become an oldies staple. But it was her other hit that year, "You Don't Know," that put her in the record books, as the youngest female to have a number one British hit. She received Top Female Singer honour by the time she was 16.
Her voice certainly belied her age, very full and adult-sounding, and for a few years she was a regular feature on the charts, even touring on the same bill above the rising Beatles. But fame was relatively fleeting, and by the middle of the 1960s, her pop career was in decline, and she moved into musicals and jazz, before eventually finding herself as a gospel singer.
Dusty Springfield
Dusty Springfield, whose real name was Mary O'Brien, first came to prominence as the lead voice in the trio the Springfields, which included her brother. Their folk-influenced sound brought a number of hits in the early '60s – they even scored an American hit – but by late 1963 they split and Dusty began her solo career.
She was an immediate success, with a soulful voice that brought an emotional depth to pop music, and an astute ear in selecting material. She even became a TV star with her own series (one episode of which featured her duetting with guitarist Jimi Hendrix. By the late '60s she began recording in the great soul studios in Memphis, and the songs had a power never evident before in her work. She scored occasional hits, and plenty of crucial acclaim, but her career largely faded away until the late 1980s, when a collaboration with dance duo the Pet Shop Boys brought her back into the public eye, and she kept a revived career going until she died of breast cancer in 1999.
Sandie Shaw
Sandie Shaw (born Sandra Goodrich) was an aspiring singer spotted by pop star Adam Faith in 1964 when she opened for him at a concert. He took her to his manager, who negotiated a record contract for her and paired her with aspiring writer Chris Andrews. Although never a great voice, she had the looks and the style (along with her trademark, performing in bare feet) to set her apart, and Andrews' songs were excellent pop, such as "Girl Don't Come."
The hits lasted until 1967, but her fortunes were revived by winning the Eurovision Song Contest with "Puppet On A String." A couple of years later she attempted to expand her range with albums that moved outside pop to include rock, but with no major success, and she seem to vanish into obscurity.
That lasted until the 1980s, when she recorded with the BEF, and, most memorably, on "Hand In Glove" with the Smiths, a song that brought her back into the public eye, and back into the studio, which lasted until the middle of the 1990s.
Cilla Black
Properly named Priscilla White, Cilla was discovered by the Beatles' manager, Brian Epstein while a cloakroom attendant at the legendary Cavern Club in Liverpool. Under his influence, she became a major singer, blessed with a fairly ordinary voice, but certainly a powerful one, although by 1967 she'd begun the move into TV which saw her becoming a presenter rather than a singer.
Lulu
Lulu (aka Marie Lawrie) began her career in 1966, with a belter of a voice, who became Britain's second Eurovision winner with "Boom Bang-A-Bang" in 1969. By then, apart from several hits, she also had her own BBC TV series (Hendrix was one famous guest), but she continued her singing career until the middle of the 1970s.
You might also like...
It's interesting that Britain produced more female pop stars in the early 1960s than America, where there were girls groups like the Ronettes and Shangri-Las. But after 1967, it was American who produced the female singing icons, such as Janis Joplin. That said, before that American had many female soul and R&B starts – Betty Harris, Etta James, etc.
Pedant
- 24-Sep-12 @ 11:41 AM
You didn't mention how much these women empowered girls during that time. Yes, some of them were manufactured stars (but no more so than today!) and they all let their personalities shine. They all had long careers, some of them still going strong, so they actually became more than mere 'pop' singers. Dusty Springfield even became a lesbian icon after her untimely death.
Dawn
- 30-May-12 @ 11:44 AM