The 90s and Grunge Rock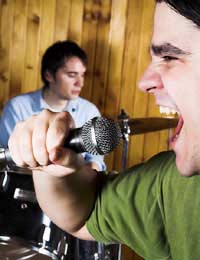 Although grunge came of age at the beginning of the 1990s, the rock subculture actually had its roots in the mid 1980s in Seattle, as an underground rock music style that mixed punk and heavy metal. It broke worldwide thanks largely to Nirvana, and flared briefly before burning out in the middle of the 1990s, but remains an iconic chapter in rock history.
The Roots of Grunge Rock
At first it didn't have a name – it was simply the style played by a number of underground Seattle groups at low-key venues around the city (many of them, strictly speaking, illegal venues). Bands like Soundgarden and Green River would perform, generally to small crowds made up of friends, and the fledgling scene was celebrated by the seminal Deep Six compilation.
It began to coalesce when local journalist Bruce Pavitt (along with Jonathan Poneman) founded the Sub Pop label and began commercially releasing singles and LPs by the groups – not only Soundgarden and Green River, but others like Mudhoney. By now they'd honed their sound into a specific, dirty kind of rock that owed as much to Black Sabbath and AC/DC as any punk group.
However, it remained a small phenomenon until Sub Pop invited British journalist Everett True to visit Seattle. His articles, raving about the scene, not only brought grunge rock to international attention, but also had the effect of drawing record labels and musicians to the city. Seattle became the epicentre of the new movement True christened grunge, and Sub Pop became famous and briefly rich, while the bands found their careers taking off.
Grunge Goes Global
The rock music scene was in stasis, having been overtaken by the freshness of dance music, and it needed something new, that grunge provided. It was as simple and primal as punk, but hard enough to appeal to rock fans.
Grunge encompassed a wide range, and any rock band signed to Sub Pop became tarred with the grunge rock label, whether it was Tad or a young Nirvana, while those groups who'd been with Sub Pop in the early days graduated to lucrative deals with major labels – some of them, like Soundgarden, even sold a lot of records.
Exciting as it was, grunge rock remained a rock subculture until Nirvana released Nevermind on Geffen Records in 1991 (the deal by which Geffen took Nirvana from Sub Pop had kept the Seattle label in business after it began losing money). Buoyed by the phenomenally successful single "Smells Like Teen Spirit," Nevermind sold in the millions around the globe, making Nirvana, and especially its tortured leader Kurt Cobain, major players in rock music.
Imitators began to spring up all over the place, making grunge more commercial and accessible – more like mainstream rock music, in fact. Both Candlebox and British group Bush did very well, albeit only for a short time. But Seattle remained rock's first city, and grunge, which appealed to disaffected youth, continued to do well – witness the success of Pearl Jam, largely made up of veterans from early Seattle grunge bands.
What Killed Grunge?
To all intents and purposes, grunge died in April 1994, when Kurt Cobain committed suicide. Torn by the pressures of his own success, he put a gun to his head. From there it all seemed to slip away, as if the gunshot had signalled the end of an era.
Yet the influence of grunge remains strong in music – you can hear it in early Radiohead, for instance, and countless other rock bands, for whom it's part of the rock music lexicon. Grunge might be dead, but grunge rock lives on.
You might also like...