Nirvana, UK and American Band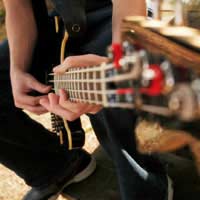 Buddhists spend lifetimes trying to achieve it, and revere it as the state of bliss. But Nirvana is probably better known to the population in general as the name of a band.
In fact, it's not just the name of one band, but two. The better known were the Seattle-based grunge rockers, who achieved global fame in the early 1990s. But Nirvana remains the name of a British duo that came together in London in the 1960s. Although nowhere near as well-known, they've had a career that's gone on and on in fits and starts, and still continues.
British Nirvana
Patrick Campbell-Lyons came from Ireland, but in 1967 he was living in London. There he met Alex Spyropoulus, who'd recently arrived from Greece. Both of them were musicians, and both were intoxicated by the new psychedelic sounds coming out of the clubs. Adventure was in their air, and they wanted to be a part of it.
Things moved along briskly once they were signed by the young Island label. Compared to most bands around their style was almost orchestral and very formal, using classical rather than the usual rock instruments for much of the sound. After a couple of singles, notably "Rainbow Chaser," the duo's first album, The Story of Simon Simopath, was released in late 1967.
Nirvana didn't set the word on fire with their record sales, although the reviewers were generally kind. All of Us, their sophomore effort, appeared in 1968. A couple of years later they resurfaced on the Pye label with Dedicated to Markos III.
From there it was a short step to breaking up. Campbell-Lyons kept the Nirvana name alive for two more releases before starting to work under his own name. But the duo did come together again in 1985, first releasing a compilation CD, then two more discs during the 1990s (one of which contained a cover of a song by the other Nirvana!). They were the subject of a box-set retrospective and supposedly are still recording together, but there has been no new material in a long time.
One thing there has been, though, is a legal agreement between the British and American Nirvanas that allows both bands to use the name without compromise - an unusual event that's served both well.
American Nirvana
The Nirvana the world really knows didn't exist by that name until 1988, although singer/guitarist Kurt Cobain and bassist Kris Novoselic had been playing together since 1985, working with a series of drummers. Cobain has been born in the coastal Washington town of Aberdeen, but started the band properly after moving to the state capital of Olympia.
They signed to the fledgling Sub Pop label, based in Seattle, in 1988 and released their first single, "Love Buzz," which was followed a year later by the album, Bleach. The grunge movement was forming in Seattle, led by groups like Mudhoney and Soundgarden.
In 1990 the band began recording with producer Butch Vig in Wisconsin, and also changed their drummer. The introduction of Dave Grohl behind the kit galvanized their sound and gave them an impetus that hadn't been there before.
There are different stories as to how it happened, but the band signed with DGC Records (Geffen) and made Nevermind with Vig producing. It gave the world "Smells Like Teen Spirit," the single that made worldwide stars of Nirvana and made grunge a household world, kick-starting the careers of several other Seattle groups.
From there the work became non-stop. 1992's Incesticide gathered together rare tracks, even as Cobain married Courtney Love, the lead singer for Hole, and the pair had a daughter, Frances Bean.
1993 brought In Utero, the real follow-up to Nevermind, and unsurprisingly it debuted at the top of the charts in several countries and was followed by endless months of touring, including a very popular session for MTV Unplugged.
However, the wildly depressed Cobain had reportedly been a heroin addict for some time. Certainly he was checked into rehab in March 1994, although he left. Just a week later, in his Seattle home, he committed suicide with a shotgun.
Nirvana had become one of the biggest bands in the world, and the new stunned fans. But the band has remained big business. First came the MTV Unplugged CD, followed by a live video, then in 1996 a live CD.
That was just the start. Since then, among wrangling between Love and the surviving band members, there has been a best of, a box set, a best of the box set.
You might also like...