The Beginning of MTV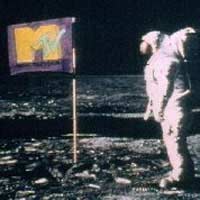 MTV changed everything. It arrived in America in 1981 airing music videos 24 hours a day seven days a week (it kicked off, aptly with Buggles' hit Video Killed the Radio Star), a continuous stream of contemporary music.
Aimed at the 16-24 age group, it was an immediate hit, and responsible for the success of a number of groups who jumped on the video bandwagon. For several years, however, it remained an American phenomenon, not coming in Europe until MTV Europe appeared in 1987, broadcast to many of the European countries by satellite.
The Power of MTV
It didn't take long for MTV to establish itself as a major force in music. Although there weren't very many videos when it began broadcasting, they quickly proliferated as promotional tools, giving rise to a new profession – video director.
The VJ's (video jockeys) as they were known, became minor American celebrities, and by the middle of the 1980s MTV wielded a frightening power over the record labels, since regular airing of a video almost inevitably equated with a hit.
Although originally intended purely as a music channel, in time other shows began to creep in, eventually reaching the point where MTV in the U.S. actually showed very few videos, spawning a second channel MTV 2, to do just that.
It also added VH1, whose music was aimed at a more adult audience, although it, too, quickly became a mix of shows and music, rather than simply music.
These days MTV is a huge global brand, available almost everywhere in the world, with its regional variations (MTV Asia, MTV Latin America, for example). Yet it's become more famous now for its shows, such as The Osbournes and Pimp My Ride, than any music it airs; the prevalence of downloads has changed things yet again. Although it remains incredibly popular with teens and twenty-somethings.
MTV Europe
August 1 1987 was the date MTV finally hit Europe, opening with the Dire Straits song Money for Nothing (with its line "I want my MTV"). Although it transmitted to all of Europe, the language was English – the most widely-understood language - and MTV was based in London.
Although widely anticipated, and still acclaimed for the MTV Europe Awards, MTV didn't have quite the same impact it had enjoyed in America. Then again, six years had passed since its introduction there, and videos had become commonplace on both sides of the Atlantic (The Tube, among others, had aired them here before MTV was around in Britain).
MTV UK
It took another decade for MTV Europe to split into channels serving different countries, and in 1997 MTV UK and Ireland finally began broadcasting, going digital in 2001.
Yet it quickly became more a brand than a music channel, much like its American parent. The main MTV channel was used for bigger shows, whether they were made in the U.K. or brought in from America, and the videos themselves were – and still are – aired on the other MTV channels, such MTV Hits (for music on the charts) or MTV Base (which plays mostly music of black origin.) Notably, MTV's response to the ascent of online videos has been MTV Flux, which is meant to be more interactive, allowing requests, and also giving viewers the chance to submit their own videos.
Wherever you go, MTV is now an established part of the entertainment landscape.
You might also like...
Back in the day, MTV was something different and important. It had shows for different kinds of music, and then VH1 was aimed more at an older audience still interested in music. But these days, with so many videos released directly online and bands making videos on the cheap, it's a spent force putting on pretty bad reality shows. Does anyone even care about MTV any more?
videostar
- 30-May-12 @ 1:56 PM