What is Emo Music?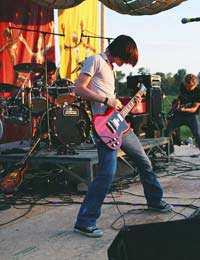 Emo is one of those terms that's become so widespread in recent years that it seems to have lost a lot of its meaning. You hear of "emo kids" and it's a fashion trend (usually meaning tight jeans, straight hair dyed dark with a long fringe, for instance) that often has little to do with the music itself – and emo is, at its heart, about music.
The emo musical style has its roots, and many of its branches, in America, going all the way back to the Washington D.C. hardcore scene.
The Rocks
You need to go back to 1980s, to Minor Threat and the rest of the Washington D.C. hardcore sound to find what people take as the real root of emo – or emo-core as fans began calling it (the term "emo" didn't become commonplace until the 1990s).
With the scene becoming more violent, the members broke up Minor Threat and instead formed other bands, including Rite of Spring and Fugazi, who exerted a lot of influence over what essentially remained a local scene for several years (although Fugazi became a major independent bend in the US).
Completely separately, similar scenes rose arose as far apart as New York and California. What the different areas had in common musically was that they all evolved from hardcore punk, but had a more emotional element to both the singing and lyrics, rather than the shouted, aggressive style that had gone before. At the same time, it remained very strongly connected to hardcore and decidedly indie – at the time the major record labels wouldn't have known what to do with it, and the bands wouldn't have wanted to sign with them, anyway.
It was common for dynamics to be an integral part of the sound, going in a heartbeat from loudness to softness in a song – meaning that Nirvana could easily have qualified as an emo band, had anyone applied the tag to them.
The Flowering
It was in 1994 or 1995 that the first national references to an emo scene began appearing in the US. By then the music was changing somewhat. Although still decidedly independent, it was moving even farther away from hardcore and becoming more melodic – the early work of Seattle bands like Sunny Day Real Estate was the pioneer of the new emo style.
Others artists quickly began to emerge, with Jimmy Eat World the new big name, followed by Weezer. Suddenly it was everywhere, and by 1998 emo was being hailed as a national musical phenomenon, although few could really define it, other than it seemed like a successor to punk with similar hallmarks. It had become, to all intents and purposes, very mainstream, which meant many more bands getting in on the emo act as those who'd led the way drifted in other directions.
More Recently
Although Jimmy Eat World have stayed close to the "real" emo tag and kept their integrity, those that have followed – and there have been many of them – have often sounded like clones of each other, which has tended to shatter the emo myth. And as emo has become more an overall style, rather than just a type of music, and a mainstream style, many bands have distanced themselves from it.
These days it can apply equally to a punk group like Fall Out Boy or a band as seemingly indie as Death Cab For Cutie. About the only truly common factor they all seem to share is that the people making it tend to be American. Emo has a lot of British fans, but few groups committed to the cause.
You might also like...