The New Folk Revival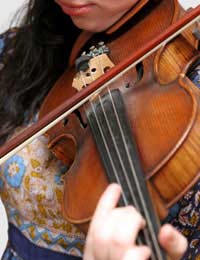 Probably no one expected folk music to rise from the ashes. After all there had been a revival in the 1950s and for a short while it had been the hip thing. But that had all been washed away by the Beatles, if not before, and folk music had been on the sidelines, except for a brief period at the beginning of the 1970s when folk rock reared its head for a while.
Like its predecessor, the revival was generated by a young generation. The difference was that this one had grown up with folk music, it was better school, and more technically adept. They'd also been exposed to other styles of music, everything from rock and dance to word music, and it informed the way they looked at their musical heritage and approached the tradition.
The Roots of the Revival
You can trace the roots of the rise of the new folk music to the mid 1990s, when young artists like Eliza Carthy (the daughter of Martin Carthy and Norma Waterson, who'd both received their start in the earlier folk revival), Northumbrian piper Kathryn Tickell and singer Kate Rusby were making their start.
At the time they just seemed like young folk artists carrying on the tradition. There was no sense of a movement, even as a few other young artists, like the Lakeman Brothers, arrived.They all established themselves, with Eliza Carthy the most experimental, releasing Red Rice, which took in rock and electronica as well as more traditional folk, then releasing an album of her own songs.
But as these artists put out a few albums, they set a grounding on which they and others could build.
Moving Faster
It wasn't until a few years into the new Millennium that things began to gather steam. This time it was the males who came to the fore, with the duo of Spiers and Boden and Jim Moray. Moray, in particular, proved highly adventurous on his debut album, Sweet England, where he cast old songs in a very new light that drew from many areas of pop music. Spiers and Boden, on the other hand, seemed a very traditional pair, just fiddle melodeon and voice. But as they've moved through their career, they've shown that they also love taking chances, forming the "big band" Bellowhead to great acclaim, even if not everything it attempts is successful.There's been a proliferation of young artists coming through in the wake of all of these, which has been helped by a degree programme in folk music at Newcastle. The first graduates have begun to trickle through, and many more are on the way.
But there are even younger bands around, as teenagers show a deeper interest in folk music. In fact, in showing its more adventurous, younger side, by 2007 folk music in England probably had its highest profile in almost 50 years. Critics were taking it seriously and audiences were growing.
Almost certainly, that won't last. Folk has never been music of mass popularity, and its time in the sun will fade. But it will have gained more fans along the way, and risen to a higher level than before.
You might also like...