What is Grime Music?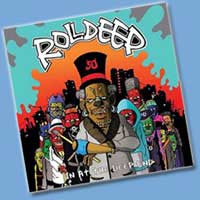 Grime has been Britain's addition to urban or black, music, although it's remained largely a British genre which has only managed to make small inroads into the U.S., the home of urban music.
It developed at the beginning of the Millennium, coming out of the garage and two step scenes, but with its own little twists. The breakbeats are often in a fairly sparse style, the beat a little slower than techno, but the rapping is often speeded up to double-time (an idea taken from ragga).
It's the rapping that really characterises grime, and it's rappers like So Solid Crew, Dizzee Rascal and Lady Sovereign who've become the stars of the genre, taking it into the U.K. charts and establishing it as a very active facet of British urban music, with Rascal winning a Mercury Prize.
From its underground start in London, Grime has gone on to also become popular in Europe.
Dizzee Rascal
Dizzee Rascal was part of the garage scene with Roll Deep, but really began to shine alone when he began exploring an eclectic mix of sounds. Voted Best Newcomer in 2002, he showed what he was made of a year later with the single I Luv U and album Boy in Da Corner, both of which hit the charts, receiving excellent reviews (and spawning another, bigger hit). It was enough to bring him the Mercury Prize.
Fame brought greater success when he came out with his sophomore release, Showtime, and the single Stand up Tall, in 2004.
Since that time he's set up his own label to give exposure to new acts such as Newham Generals.
So Solid Crew
So Solid Crew moved between garage and grime, and were certainly its most successful early exponents, scoring a number one single in 2001 with 21 Seconds and celebrating grime in 2004 with So Grimey.
For all their brief success they were dogged by controversy during their existence, with several associations with gun culture, and one former member was tried for murder in 2006.
Although influential, and while a number of former Crew members have put out records, they did more to blaze the trail for others than achieve a great deal themselves.
Lady Sovereign
Expelled from school, Lady Sovereign is a self-described chav who came to the notice of record labels when she participated in the single The Battle, which brought her a major label record deal.
On her second solo attempt, she hit full tilt with 9 To 5, a single that took her into the charts. Very honest about herself and her origins, even being featured in a documentary about chavs, she's the articulate face of the subculture. But she's proved to be a prodigious talent as a rapper, appearing on a number of remixes, and even finding an audience for her work in America, where she's toured and scored minor chart hits, even appearing on national television.
Although Lady Sovereign and Dizzee Rascal are the biggest names, grime has been a thriving scene that's pushed a number of artists, such as Akala, Wiley (who was part of Roll Deep with Rascal) and The Plastician, among many others, although most have yet to achieve breakout success.
You might also like...