The Rolling Stones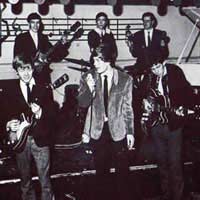 Formed in 1962 and still going strong, they're probably the richest band on the planet, with individual fortunes running into the many millions. When they began they were the boys you wouldn't let your daughter date, and now, for all their wild ways, they're part of the establishment they once rebelled against. In their heyday they were called the world's greatest rock band, and they can still pack stadiums on their tours.
How It Began
According to legend, middle-class student and blues aficionado Mick Jagger first met Keith Richards on a train, when Richards was carrying a pile of albums from the Chicago blues label, Chess. They hit off an immediate friendship, and began frequenting Alexis Korner's club in London, looking for musicians for a band. Korner introduced them to Brian Jones, who'd moved up from the West Country, a very talented guitarist with a deep love and knowledge of the blues. Once they added drummer Charlie Watts, pianist Ian Stewart, and the oldest member, bassist Bill Wyman, they were ready, and made their start at Korner's club at the Marquee.
Very soon they were playing every week at the new Crawdaddy Club, and word spread about this wild new blues band, reaching the ears of Andrew Loog Oldham, an ambitious young man who'd been working as a publicist for the Beatles. Sensing their potential, he stepped in and became their manager, arranging a record deal with Decca, who quickly put out their first single, a take on Chuck Berry's Come On. It sold reasonably, but it was only with their next effort, Lennon and McCartney's I Wanna Be Your Man, that things clicked into high gear and suddenly the Stones were a new force in British pop, the bad boys who seemed the opposite of the more clean-cut Beatles (by now Stewart had adopted a backing role, playing some piano for them, but also acting as road manager).
But really they needed their own material, and the apocryphal tale has Oldham locking Jagger and Richards in the kitchen of their Edith St. flat until they'd written a song together. From those humble beginnings the composing partnership flourished, reaching its first high in 1965 with (I Can't Get No) Satisfaction, the single that made them superstars on both sides of the Atlantic.
Scaling The Heights
It was the start of a series of hugely successful singles and albums, along with drug busts, and a short, ill-advised detour into psychedelia in 1967, that culminated with the death of Jones in 1968. He was replaced by guitarist Mick Taylor, and fame and notoriety continued unabashed, with tracks like Jumping Jack Flash and Brown Sugar becoming rock classics, hardened with a blues edge to show that the Stones hadn't forgotten their roots. There was a shadow over them, however, after a fan was killed at a show in Altamont, California at the end of 1969. But their albums epitomised the best in rock, and after the Beatles broke up they were lauded as the best band in the world, releasing albums like Sticky Fingers and Exile on Main St. The rumours of wild living and drug abuse continued, but by then they'd become too big to touch.
The Next Phase
Taylor quit the group in 1974, and they drafted in Ron Wood, from the Faces, as his replacement. But with the change, or perhaps the money, it seemed as if the fire had gone from their music. They began experimenting, trying disco, country, and other styles that smacked of desperation. They enjoyed a brief renaissance in 1980 with Tattoo You, but after that it seemed as if they were no longer musically hungry, although their international tours sold out quickly. Both Jagger and Richards worked on solo albums, and the Stones seemed to exist more as a money-making machine than a band. Wyman left in 1991, and he wasn't' even replaced for three years.
Recent Years
In spite of good reviews for Voodoo Lounge in 1994, a remastering of their back catalogue and periodic studio and live albums, punctuated by lengthy tours, the Rolling Stones, now much older and greyer, haven't recaptured the magic that once made them so special. These days they seem to coast on a mix of reputation and greatest hits. Yet they still sell out their tours as fans come to hear the old hits.
You might also like...