Tommy Steele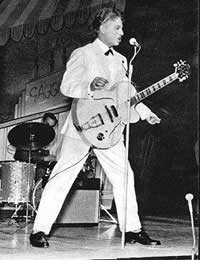 Fame has often been as much about opportunity as ambition - being in the right place at the right time. In the early days of rock'n'roll, on both sides of the Atlantic, that could often be a big enough boost to a record contract and short-lived, minor fame. A few managed to parley that into lasting success - Tommy Steele has been one of them.
The Beginnings
Tommy Hicks was a London lad with the archetypal Cockney personality. He'd left school at 15, and held a number of jobs before joining the Merchant Marine, and becoming an assistant steward with the Cunard line, travelling all over the globe. A proficient guitar player, he loved country and western music, and had even backed bluesman Josh White on one of his early trips to the U.K.
Before skiffle, however, he hadn't even seriously considered a musical career - there was no money in it, and certainly no steady work. However, at home for a month on leave, he decided to go down to the 2I's coffee bar in Soho, taking his guitar and asking to have a chance to play. Backed up by the resident group, the Vipers, he had the style, looks and talent. That, at least, was the opinion of photographer John Kennedy.
Kennedy told his partners, a pair of manager/agents who approached Hicks about running his career. By this time Hicks had the skiffle bug, and had put together a group, the Cavemen, which featured future composer Lionel Bart. But before anything else, a name change was in order, and so the prosaic Tommy Hicks became the more viable Tommy Steele, and played in the more upscale Stork Rooms in the West End - bringing rock'n'roll to the wealthy, after debuting at a debutante ball.
It was while Steele was playing there that Kennedy ran into Larry Parnes, a businessman and fledgling impresario, and took him along to the show. By August of 1956 the pair of them were handling Tommy Steele. Very quickly they had him auditioning for record companies, and Decca took the bait. In October Steele's first single (the first British-authored rock record), "Rock With The Caveman," appeared. As there were no rock'n'roll musicians in London, the session was played by jazz artists, including saxophonist Ronnie Scott.
Fame
The record peaked at number 13, and transformed Steele into Britain's first home-grown rock star, his wages rising overnight from £7 a week to £700 - no small jump, and an impossibly huge figure for those times. Tommy Steele was an instant teen idol, hitting the road in a package tour then playing an extended season at London's Finsbury Park Astoria.
The question was whether he could sustain his success, and when his second single flopped, it looked as though he'd been a flash in the pan. But after he bounced back with a number one (Singing The Blues), there was a sigh of relief - rock wasn't dead yet. Still, in the take-advantage-today-because-it-may-not-be-there-tomorrow spirit, he also played his first movie cameo, in Kill Me Tomorrow, and followed it with the biographical The Tommy Steele Story - films seemed a more viable form than rock.
The Aftermath
At the time, no one could have predicted the longevity of rock, and anyone serious about staying in the business needed to become an entertainer, with a broader appeal and fan base. That was exactly what Steele did, and it was perhaps a natural move, since he'd come into the music via country; his heart was in songs rather than one particular form. He made his last proper rock record in 1959, and was soon appearing in the West End in the musical Half A Sixpence. In 1965 he was featured in three big films, including the screen adaptation of Half A Sixpence, that made his transition away from rock to family entertainer complete. He might have turned "legit," but there was no denying that he was the man who'd first unleashed rock'n'roll on Britain.
You might also like...