American Rock Stars in The UK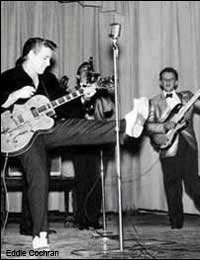 Although Britain had its own rock stars in the 1950s, there was a definite hunger for the authentic American sound. Since the early 1950s American bluesmen and jazz musicians had toured Britain, but it was rock'n'roll that the kids hungered to hear. There was a chance to see the stars in films, but the real thing was a lot rarer. Some did venture over (although, notably, never Elvis), like Jerry Lee Lewis, but two in particular stayed in British hearts and minds - and one of them, under sad circumstances, stayed in England.
Eddie Cochran
If Eddie Cochran's remembered for one thing, it's the song Summertime Blues, which has been covered literally hundreds of times. Although far from a household name, he was one of the most convincing early rock stars, who could not only snarl out a tune, but also play a mean guitar. Born in 1938, his family moved to California when he was 13, and within a few years he was a performing musician. 1956 was the turning point for him, when he recorded Twenty Flight Rock and appeared, singing it, in the movie The Girl Can't Help It. It was instant stardom, with several hits following, and plenty of touring, including a trip to Australia. But in 1958 he did even better, releasing not only Summertime Blues, but also C'mon Everybody, both now regarded as classics.
In January 1960 he arrived in Britain to start a lengthy tour and make several appearances on the TV show Boy Meets Girls. Touring with Gene Vincent (with whom he'd recorded three years before), he brought real, gutsy rock to the country, and his fret board style would influence hundreds of young hopefuls.
However, it all came to an end after a show in Bristol. On April 17, as he shared a taxi going back to London Airport, he was involved in an accident in Chippenham, suffering head injuries that proved to be so severe that he died during the night.
Possibly because of this, or the quality of the performances he'd given, Cochran remains a greater figure in Britain than in America, still revered by a generation of musicians who had the chance to hear him.
Gene Vincent
Born in Virginia in 1935, Vincent joined the Navy at 17, but a motorcycle accident three years later left him with a bad leg, invalided out of the service. His life changed when he discovered rock'n'roll, and within 12 months he'd put together a group and was appearing on the radio with his signature tune, Be Bop a Lula. After making a demo of it and two other songs, Vincent and his group were taken into the studios in Nashville to record by Capitol Records. 1956 proved a seminal year as Be Bop a Lula was a huge hit, but touring aggravated his bad leg, and he was forced to rest in hospital.
By the time he'd returned to recording there were plenty of new stars, and his time in America seemed to have gone, although he still toured regularly, with a wild, loud stage act. Elsewhere, though, he remained a hero, and fans thronged to greet him when he arrived in London in December 1959, and during his stay he had two British hit singles.
Vincent was a passenger in the taxi when Cochran was killed, and suffered more leg damage from it. But in spite of that, he continued to tour in the U.S., and his cult status in Britain remained intact as the wild man of rock. Europe, and the U.K. in particular, was kind to him, even in the late 1960s and early 1970s he could still pack theatres for a show. Legendary radio DJ John Peel even recorded a Gene Vincent album for his Dandelion label shortly before Vincent died in 1971.
Jerry Lee Lewis
Lewis, the piano-playing rocker who was wilder than all the rest put together, was already one of the towering figures of rock when he arrived in Britain in 1958. With songs like Whole Lotto Shaken' Going' On and Great Balls Of Fire he'd set a new standard for rock.
Although he was just 23, he'd already been married and divorced twice, and remarried for the third time just before his British tour. The problems for Lewis came when the press found out about his new bride. Not only was she his first cousin once removed, she was also only 13 years old. It was a scandal, and the papers jumped in gleefully. The outrage was so loud that Lewis was forced to cancel his tour, and it almost killed his career at home - it wasn't until the mid '60s that he was welcomed back in Europe.
You might also like...