Cliff Richard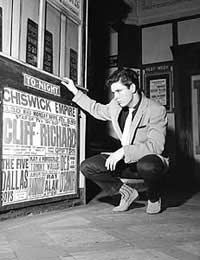 Cliff - one word is all you need. He's been a star in British music longer than anyone, an icon that transcends generations and who's sold millions of records in his time. But he's become so much a part of the fabric of the music business that it's easy to forget he made his start as a somewhat rebellious rocker, Britain's answer to Elvis.
The Beginning
Born in India, Harry Webb came to England with his parents when he was eight years old, settling in the London suburbs. He'd settled into a life of clerical work on leaving school at 16, but, like so many others, he was bitten by the skiffle bug, joining the Dick Teague Skiffle Group, which played in pubs around the outskirts of the city.
But whilst skiffle was fine, when rock'n'roll hit he was captivated, and formed Harry Webb and the Drifters, who cut a two song demo at HMV record shop in Oxford Street. It didn't bring instant fame, but it did land them a regular gig at the hallowed ground of London music - the 2I's coffee bar in Soho. They covered the American hits, and, according to reports, Harry Webb was a very convincing rocker, able to ape the American mannerisms perfectly whilst injecting his own personality.
Fame
It wasn't long before they were finding gigs out of town, but they needed a better name, so Harry Webb was transformed into the sleeker Cliff Richard. Eventually they got to record for the Columbia label, Schoolboy Crush and Move It. After the single came out - with Schoolboy Crush as the main title - the band re-jigged, bringing in guitarist Hank Marvin, and when they appeared on the Oh Boy! TV show, they were asked to perform Move It (a much more impassioned and real rock song). The next day, one newspaper wondered if Cliff "was too sexy" for TV - which could be nothing but a recommendation to his young audience. The single promptly rose to number 2 on the charts, and the next February Cliff was named Best New Singer in a poll.
He was almost certainly Britain's best candidate for real rock stardom. He had the slightly moody looks, the voice, and the moves all in one package. But he also had some very good songs, and a crack band that made for an overall winning package.
The hits kept coming and soon so did the movies, starting with a part in Serious Charge, then Expresso Bongo. But it was part of a move away from out-and-out rock'n'roll, which was thought to have a limited shelf life, and in January 1960 Cliff and the newly-renamed Shadows were on Sunday Night at the London Palladium, which they followed up with a six month residency there.
Into the Sixties
Cliff had the Midas touch - every single was a hit, and more serious musicians revered his band, especially the guitar work of Hank Marvin. By 1961 they were, beyond doubt, the biggest band in the land. They cemented their fame with a couple of films, The Young Ones and Summer Holiday, that kept them as stars even after the Beatles had risen to fame (interestingly, Cliff never managed to conquer America, although he tried several times). Cliff began working solo, and the Shadows forged their own instrumental hits.
Unlike most of the other 50s rockers, Cliff's star never faded. He represented Britain in the Eurovision Song Contest - and won, with Congratulations. Singles and albums made the charts, and his tours continued to sell out, not only during the 60s, but into the 70s, 80s and beyond. He became as famous for his Christian views as his music, one of the icons of British music.
You might also like...
Cliff's career has out lived many singers and bands over the past 55 years, Well done cliff
edd
- 2-Nov-13 @ 11:38 PM