The Impact of Festivals on The Music Industry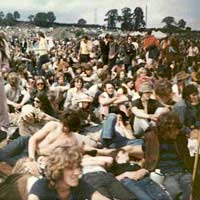 The rock festival first really cranked into life in California, with the 1967 Monterey Festival. It was the natural extension of gigs and touring - bringing in an audience from all over to a large open site to see a large line up of bands. With its balmy weather, California was a natural location for such an open air event.
But two years later it was upstaged by what's still the most famous festival in history - Woodstock. Woodstock drew half a million people, was celebrated in a famous movie and album that's still iconic in rock history.
Yet America wasn't the only place with its festivals. Whatever America could do, Britain could do even better, or at least try. However, it was just a brief flurry and after the initial fervour, festivals would largely become history until the middle of the 1990s, when they re-emerged on a much larger, formidable scale.
Early Festivals
The National Blues Festival in 1968 was the opening salvo, although it appealed just to a small audience, removed from the rock mainstream. It was really only in 1969 that festivals hit these shores, with the Bath Blues Festival 1969, which presented more than just blues to attract a wider audience.
Bath 1970
Having gained experience the year before, the promoters of the Bath Festival went for the big time in 1970. Held over the last weekend of June, it had a line up of huge names, from Led Zeppelin to Frank Zappa and Santana to Pink Floyd.
However big names meant big crowds and no one was prepared for the 150,000 who flocked to the site. There were problems with the roads, problems with security and it being June, problems with the weather, which meant a soaked audience and bands running late.
It was a mixed success, making very little money, but giving massive exposure to many bands, especially Led Zeppelin, who gave the kind of performance that elevated them to superstar status.
Isle of Wight
The Isle of Wight festival at August bank holiday 1970, as summer ended, remains the most famous gathering in Britain from the period. In sheer size it was bigger than Woodstock (according to official figures, the crowd was around 600,000), with some 50 bands on the bill, ranging from one of the firsts gigs by Emerson, Lake and Palmer to the Who, Sly and the Family Stone and one of the last performances by Jimi Hendrix before his death some three weeks later.
The promoters came into this well-prepared - it was the third festival there and in 1969 they'd scored a coup by tempting Bob Dylan out of retirement - but they suffered many of the same problems as Bath with security and the sheer mass of people, many of whom had arrived without tickets. Eventually the walls around the site were just breached, so many entered for free. It would be the last festival there for over two decades.
Glastonbury
Bath and the Isle of Wight had been very commercial ventures, with many of the biggest names in rock appearing. Glastonbury Fair was a different affair, aimed at the real hippies, with appearances by Gong, Arthur Brown, David Bowie and Traffic. It was the second year the festival had been held there and with its specially built pyramid stage, it seemed a very cosmic event, a lovely free festival that brought in 12,000 people (a huge increase over the first year, when 1500 showed up). Filmed (by director Nicholas Roeg), it became a cinematic release. But organisation of the event was chaotic and a long time would elapse before Glastonbury returned and became one of the major festivals of the British summer.
You might also like...
Festivals are big business these days, and even if they don't all make money, or some take a year off (like Glastonbury) they keep musicians busy during the summer and provide a good chunk of their annual income, as well as increased CDs sales on site after performances. In other words, they've become a vital and integral part of the music economy.
muso
- 27-Sep-12 @ 11:16 AM