Record Labels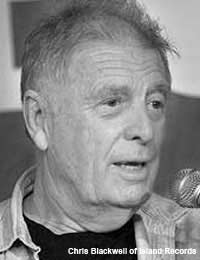 Through the first part of the 1960s, records had been released mostly by the major labels, like EMI, Phillips and Decca, the three giants of the business, long-established and stodgy. There were a few independents, but they existed very much on the margins.
However, as music changed during the decade, especially with the rise of "progressive music" after 1967 and the success of young Island Records in the field, the majors knew they had to respond with progressive arms of their own. Suddenly music seemed far more open.
Island Records
In 1967 Island Records wasn't exactly new. It had been founded in 1962 by Chris Blackwell, who'd grown up in the West Indies before moving to England, where he distributed ska records, and released some on Island, the label he'd formed for just that purpose.
It was a living, but not much more. Blackwell was intrigued by the explosion of British talent, and recorded some artists, like the Spencer Davis Group, but licensed the tracks - several of which became big hits - to other labels. The sea change came in 1967, when Island took the plunge into white music.
The timing was fortuitous. New music filled the air, and Island was issuing records by these young artists. Airplay on pirate radio and then on the fresh BBC station, Radio 1, helped push sales. It was helped by a series of cheap price compilation LPs that sold for a pound, and served as loss leaders, selling well and tempting consumers into buying full albums by these new artists.
Island became inextricably linked with the new musical style, and as sales grew, so did profits. Yet Blackwell continued to release Jamaican music, hitting a pinnacle when he gave a chance to reggae artist Bob Marley, who'd go on to become a global star.
Blackwell eventually sold Island to the Polygram conglomerate, and after that its particular identity vanished until it's become just another corporate label.
Harvest Records
Seeing Island's success and dominance in the new market, all the established labels could do was react. They were losing potential sales and profits, and that didn't sit well. EMI had the Beatles, of course, and they'd signed a couple of the younger progressive bands, but to make an impact they needed to work harder.
The result was the Harvest label, although it didn't arrive until 1969. Although owned by EMI, it had a large degree of autonomy, and an image far removed from its parent. Pink Floyd became their flagship act, one who'd go on to massive fame. It adopted similar tactics to Island, putting out cheap samplers (notably Picnic) and enjoyed good success into the 1970s. When punk arrived, Harvest shifted its focus to that, although after the mid 1980s releases on Harvest became sporadic.
Deram Records
Decca had sensed the change in music quite early and establish the offshoot Deram for its more adventurous acts as early as 1966. However, it never had the alternative image of the other labels. Although it released some excellent music, it was closed in 1973.
Vertigo Records
Vertigo Records, Phillips' entry in the progressive stakes, debuted in 1969, famous for its hypnotic psychedelic swirl logo. Although the vast majority of its releases only sold small quantities, it did have a couple of big acts - Rod Stewart and Black Sabbath. It's remained active, although these days few albums appear on Vertigo.
You might also like...