Early Psychedelia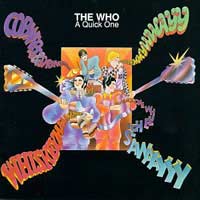 Everyone associates psychedelia with 1967 and the hippie era. That's certainly when it found its full flowering, but even before that, it was taking shape. You could hear the strains on the Beatles' Revolver album, for instance, a full year earlier, when experiments with feedback and tape loops created what were essentially soundscapes. British music was changing and expanding at a rapid pace.
The Beatles
After the near folk-rock of Rubber Soul, Revolver went in the completely opposite direction. With tracks like the mysterious Tomorrow Never Knows, Dr. Robert, and And Your Bird Can Sing, it was a toe in some uncharted waters (there were also more ordinary staples like Yellow Submarine, Taxman and Good Day Sunshine), full of sonic experimentation. Some of the ideas grew out of their own drug use - psychedelia and drugs were heavily entwined - but it was also an indication of musical growth, a need to break out of the confines of rock'n'roll.
Their stature meant that people followed them, musicians and fans alike. They made experimentation acceptable, and made the ears of the crowd open to others doing similar things.
To an extent, it was even more of a revolution than Sgt. Pepper, which appeared the following year, simply because it was so unprecedented. It wasn't the same giant leap into the future, but coming from nowhere, its impact was massive.
The Who
The Who had made their reputation as a Mod band and emerged as a powerful rock'n'roll unit on the back of Pete Townshend's quirky writing. But he wanted to use rock as a platform for bigger things, and he took his first steps on the LP A Quick One. For the most part it was a fairly standard record, but the last track, A Quick One, While He's Away marked something very new, a mini-opera as Townshend called it. Running just over nine minutes, it was longer than anything any rocker had yet released, telling a story with music.
It was an experiment that didn't always work, but there's was much to be learned from failure as success. No one had attempted anything as grand before, and from it he was able to take the big jump to Tommy two years later, a true rock opera (but not, as is generally thought, the first of its kind).
Jimi Hendrix
Arriving from America in 1966, Hendrix began setting the London clubs alight with his live appearances, playing the guitar like no one before him. His first three singles arrived before the middle of 1967, and they set a new, high standard for guitar work, and the possibilities of rock. Hey Joe was the blues like never before, electric and scary with throwaway guitar lines that made everyone else look amateurish. Purple Haze was psychedelia before it even had a name, with the guitar "freaking out" in a manner most amateurs could only hope to emulate, and he followed that with The Wind Cries Mary, to show that he was a master of the slow song, too, making it sound unearthly and beautiful.
In his own way he was just as much a leader of the Beatles, blazing a trail for all manner of guitarists - one they're still following.
These three were the leaders, but others - the Small Faces, the Creation and plenty of hopefuls - were following rapidly in their footsteps. From its first, tentative footsteps, psychedelia broke very quickly into a run that would become a gallop by the summer of 1967.
You might also like...