Pop Music of the 60s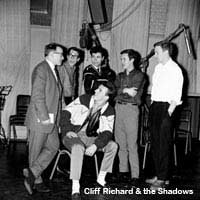 There's a definite arc that can be traced in music from early rock'n'roll to the seismic shift the Beatles caused when they broke on the British music scene. The harder edge that had defined the material at the beginning - even the first few Cliff Richard singles - softened as pop won over rock'n'roll. It was perhaps inevitable as the music grew a little that people would want more 'hummable', friendly melodies and a slightly gentler approach.
The Groups
Cliff and the Shadows ruled the pop roost. Whilst most of the singles they released are forgotten now, there were a few classics, like The Young Ones - the theme to their hit movie of 1961 - and Bachelor Boy. But it wasn't only Cliff having hits; the Shadows had stepped out from the background to hit the charts several times with 'twangy' guitar instrumentals like Apache, FBI and Wonderful Land that would become classics in their own right. Pop music might still be simple, but it had moved on from the three chord blues structure that had largely defined rock'n'roll.
The Springfields
They came together in 1961 when Mary O'Brien, her brother Dion, and friend Tim Field formed a trio. Mary became Dusty Springfield, the name she'd carry for the rest of her life, and they quickly made a couple of Top 40 hits. Curiously, during their short time as a band (they split in 1963), although their name was known, they only achieved a couple of big hits, and were better known in American than at home. Real fortune would come after Dusty became a solo artist, rapidly becoming one of the female icons of the 1960s.
Helen Shapiro
London girl Helen Shapiro was fourteen and taking vocal classes when she was discovered. With her big, mature voice, she was snapped up by EMI, who quickly released the aptly-titled Don't Treat Me Like A Child, followed by You Don't Know, and she left school at 15 to concentrate on her rapidly flowering career. Then came the big one, Walkin' Back To Happiness, which would remain at the top for three weeks, with advance orders of 300,000 copies. The Beatles were an opening act for her on one of their first package tours, but her fame couldn't survive their success and fame faded in 1964.
The Lesser Names
There were so many who seemed poised on the brink of fame, only to stutter after one or two hits. Mark Wynter, for instance, had a smash with Venus In Blue Jeans in 1962, two years after his first hit. But that was the last most people heard of him. John Leyton was a dashing actor who tried a pop career, scoring with the death ballad Johnny Remember Me, then Wild Wind before sinking back to pop oblivion. Joe Brown was another, an excellent guitarist who tried for pop success with his band, the Bruvvers. But the best he could manage was one hit, A Picture Of You, before Merseybeat swept the competition away.
Shakin' All Over
Rock'n'roll did have one last, glorious gasp in it, however, and it used its last breath to produce what might still be the best British rock single ever. It was Shakin' All Over, released in 1960 by Johnny Kidd and the Pirates, a crew who dressed the part (right down to the eye patch). Written the day before the recording session, they laid it down in the first take, although they were convinced it would be a b-side. They were wrong, and as soon as they performed it on the TV show , wham! it rocketed to number one. But it was the only big hit they ever managed - although it remains a perfect piece of British rock.
You might also like...
I love the sixties and this website has helped my collection thanks
scarlie
- 17-Jun-11 @ 10:22 AM