The Return of Rock - Boo Radleys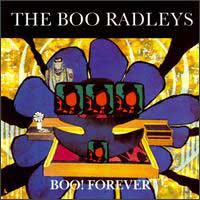 Even with the ascendancy of dance music, rock never went away – it simply took on different colours, camouflaged by indie. It was a different type of rock to the music that had prevailed 20 years earlier, or even 10 years before. But it still used guitars, and indicated that rock simply couldn't, and wouldn't die. There would always be too many boys (and even girls) who wanted to pick up guitars and make music with a beat.
With indie, rock splintered into several shards, such as shoegazing, and Britpop would become briefly dominant. But a number of bands fit into no pigeonhole, and proudly went their own ways to create rock for the 1990s.
The Boo Radleys
Emerging from the amorphous shoegazing scene, the Boo Radleys came of age with 1992's Everything's Alright Forever, then following it up a year later with Giant Steps, which showcased the smart songwriting of guitarist Martin Carr.
However, it was the sunny single Wake, Up Boo! and its accompanying album Wake Up! that brought them briefly to the fore as they performed some intelligent, adventurous pop music. However, as a reaction to that, they returned with C'mon Kids, with its more aggressive rock attitude. However, it was almost their swansong, although they did manage one more album before breaking up.
Spiritualized
With their druggy space-rock, Spiritualized was out on the borders of rock, relentlessly experimental right from their debut, Lazer Guided Melodies. At times breathtakingly beautiful, at times deliberately pursuing ugliness, there was an almost orchestral sensibility to their music that found its apex in Ladies and Gentlemen We are Floating in Space in 1997.
Never easy listening, they kept a lush, eerie precision to their sound, although at times it barely seemed like rock.
Pulp
It took 12 years for Sheffield's Pulp to become an overnight success, but 1994's His'n'Hers swept away all the bad years, especially when Common People, issued a year later, became one of the biggest (and most articulate and observant) singles of 1995. The album that followed, Different Class, was the band's high mark, a collection of excellent songs that made them into stars not only in Britain but also in America.
Two years would pass before the widely-anticipated follow-up, This is Hardcore, which proved to be a far more sober experience, and nowhere near as popular. Pulp's last release came in 2001 with We Love Life.
The Verve
Although it took until 1997 for the Verve to hit the big time with Bittersweet Symphony, they'd been exploring psychedelic music since their formation in 1989, debuting in 1993 with A Storm in Heaven, which brought plenty of praise, but poor sales. Two years later A Northern Soul couldn't even manage the good reviews, but the band soldiered on, bringing everything together with Urban Hymns, which spawned the huge single Bittersweet Symphony (and The Drugs Don't Work). However, success didn't seem to suit the band, and they broke up a year later.
Ride
Another band with its roots in shoegazing, Ride created sprawling songs that still managed to be melodic, with strong doses of guitar. They had a penchant for releasing EPs, which helped establish them, although it was their first two albums, 1990s Nowhere and 1992's Going Blank Again that made them into minor stars. They struggled through two more records before splitting up in 1996.
Of course, these weren't the only new rock bands around, by any means. Wales provided several, such as Super Furry Animals and Catatonia. But as a sampling, they prove that rock wasn't just alive, but also very healthy.
You might also like...