New Wave of British Metal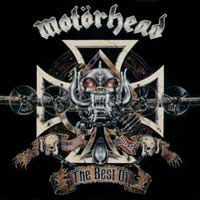 Just as punk reacted against the dinosaur of rock sparking post-punk, the New Romantics and Goth, so heavy metal experienced its own musical revolution. Metal was in the doldrums, as its two mainstays, Black Sabbath and Led Zeppelin, were both focusing on America.
The New Wave of British Heavy Metal (or NWOBHM) began as a very underground movement, essentially the metal equivalent of punk in that it came from the streets, with a very working-class ethos. It was played hard and fast, much like punk, often with a deliberate disregard for the glamour and spectacle that had grown up around big rock shows.
From its unprepossessing start, it grew to dominate the rock end of music for the first half of the 1980s, and several of the bands have enjoyed long international careers.
Motörhead
Formed by bassist Lemmy in 1975, they spent much of the rest of the decade learning their trade on the road, putting out a few records and honing their very loud, very fast approach. Their time came in the 1980s, especially with Ace of Spades (both the single and the album, which remains the quintessential band release, a blueprint for everything they've done since). Although never hugely successful commercially, they've always packed in the fans at shows, and continue to do so. But their influence on the bands that followed them, both at home and in the U.S., has been profound.
Iron Maiden
It took three years for Iron Maiden to record after they'd formed in late 1975. Even then, they didn't release an album until 1980, where their self-titled debut rocketed into the charts. They went through a number of members in the next couple of years, but stuck to their trademark double guitar sound. However, things settled after they recruited singer Bruce Dickinson, and the line up remained relatively stable for the rest of the 1980s, as the albums came thick and fast, with their second LP, The Number of the Beast, went to number one.
Success continued, and their material became more complex as they grew away from the original NWOBHM tag to become a major rock band with global popularity. Dickinson left to start a solo career in 1993, but returned six years later. But nothing dimmed their popularity, and even today they tour regularly, playing major stadiums and releasing albums that sell extremely well.
Def Leppard
Although they also rose through the ranks of this young movement, it didn't take Sheffield's Def Leppard long to set their sights higher. Their ambitions were apparent on their 1980 debut, but reach fruition on their second release, High'n'Dry, where producer Mutt Lange layered vocals and instruments into a smooth kind of pop-metal. It was the early days of MTV, and their videos made them into major stars in America. However, the follow up was delayed until 1987, due to the drummer losing an arm in a car crash, and having to relearn the instrument. But Hysteria proved even bigger than its predecessor, putting seven singles in the U.S. charts. Whilst their profile hasn't been as high since, they've continued to record and tour to great acclaim.
These weren't the only bands to come out of the NWOBHM. The Tygers of Pan Tang, Saxon and several others (including the all-female Girlschool) also rose from the ranks. But the ones who really lasted and made an impact all found at least some measure of success in America, which offered a much larger, accepting audience for heavy metal. Notably, though, none of them ignored the fans at home who'd made them in the first place. But the new wave, in this case, proved to be a brief era that led to hard rock.
You might also like...