All About Folk Rock and It's Success in the 1970s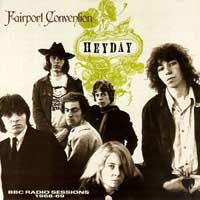 America might try and lay claim to inventing folk rock when the Byrds began playing Dylan's songs but true folk-rock – the mix of traditional folk music and electric guitars and drums – came out of Britain. It began with Fairport Convention, spread to a new band, Steeleye Span, and became a movement that made a definite impact in the early 1970s – and, in fact, still exists.
The Roots of Folk Rock
One band was really responsible for folk-rock – Fairport Convention. They'd started life in 1966, playing rock music with a Jefferson Airplane, West Coast influence. That changed when their original singer, Judy Dyble, left, and Sandy Denny entered. A gifted singer and songwriter, she brought a more traditional folk sensibility to the group, which was reflected in their psychedelic take on the old song A Sailor's Life on Unhalfbricking.
However, Denny wasn't the only good songwriter in the group. Guitarist Richard Thompson was also remarkably talented, giving a powerful double threat. But, following a car accident that killed their drummer, Fairport withdrew to make something far more influenced by the tradition – Liege and Lief, which is still considered to be one of the milestones of British music. Bassist Ashley Hutchings researched much of the material, and the final result was an album that not only rocked up traditional ballads and tunes, but also contained some very traditionally-influenced original material. The way they were performed also showed some influence of prog rock, as on the instrumental that closed Matty Groces.
Folk Rock Rises
After Liege and Lief, both Denny and Hutchings left Fairport, the former to enjoy a brief stint with a new group, Fotheringay, before embarking on a solo career, the latter to form Steeleye Span, which would delve deeper into the tradition.
Fairport continued under the leadership of Thompson to make Full House, which upped the folk-rock ante, before he also jumped ship to start a glittering solo career. The band ploughed on (as it does to this day), with a revolving cast of musicians, continuing to mix traditional and contemporary folk, and founding the annual Cropredy Festival, which has seen numerous revivals of old line-ups.
For hardcore folk-rock, however, the baton passed to Hutchings and Steeleye Span. He recruited two duos, Gay and Terry Woods and Tim Hart and Maddy Prior for the initial version of the group, although the Woods left after the first album, to be replaced by folkie Martin Carthy, playing electric guitar for the first time.
Both Carthy and Hutchings left, replaced by guitar and bass (and, in 1973, drums) which were played in a much more aggressive way, more rock-folk than anything. It was ironic, then, that they scored their first hit single with a quiet old Latin hymn, Gaudete, which was sung unaccompanied.
By 1974 Steeleye were stars, with their own television series and albums that sold in extremely respectable quantities. Folk-rock had become an accepted part of the musical landscape, and has remained so ever since.
The Development of Folk Rock
As a genre, folk rock remained largely static throughout the 70s, as bands like Trees took their cues from the forerunners. The problem was that this way of approaching the music was limited, and it needed fresh blood like the Oysterband and the Pogues in the following decade to change things, both of them influenced by punk.
These days a few bands continue to explore the style, but for the most part, a young generation of folkies have reverted to acoustic instruments. That said, Steeleye Span and Fairport both still tour and pull in excellent crowds.
You might also like...