Hard Rock and Heavy Metal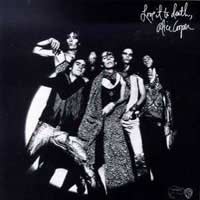 Pop, progressive, blues-rock, folk-rock…by the beginning of the 70s, music was veering in several different directions. But one of them proved to have wide appeal and plenty of staying power - hard rock. Also known as heavy music, it would eventually morph into heavy metal (a term borrowed from author William Burroughs), but in its early days, when it was still finding its way, it was an adventurous, malleable form.
How It Began
Perhaps the first entrant in hard rock was American Alice Cooper, the American singer who wore makeup onstage and whose band, with its dual guitar sound and strong riffs, was one of the foundations of hard rock.
Probably the other was the Yardbirds, the English pop-blues outfit that combined hits with credibility and a massive guitar sound, boasting greats like Eric Clapton, Jimmy Page and Jeff Beck among their axemen. As the band broke up, they'd change first into the New Yardbirds for a few gigs, before emerging from the ashes as Led Zeppelin (the name was suggested by Who drummer Keith Moon)
Led Zeppelin
Always bigger in America than at home, Zep (as their fans called them) took the blues to another place. The daring guitar work of Page mixed with the wailing voice of Robert Plant to create an entirely new entity, backed by massive bass and drums. In the beginning they were criticised for "stealing" blues songs without credit, but their own material, like Communication Breakdown, cracked down like hammers on anvils.
They quickly became huge in the States, albums selling in massive quantities, but it took Britain longer to catch on. Their first two LPs appeared in rapid succession, sending shock waves through rock and by the time of their third disc, they were already major stars. But it was with their fourth record that they broke through to superstar status, mostly on the back of the track Stairway To Heaven, which is still the most-played song on radio, in spite of its eight minute length. Page became one of the guitar heroes of the era (and still is, to succeeding generations), with Plant an idolised singer. Their tours became legendary for tales of excess and the albums continued to sell in their millions.
It all came to an abrupt end in 1980 when drummer John Bonham died suddenly. Although the rest of the band came together for an appearance at Live Aid in 1985, Led Zeppelin was over. Plant and Page have worked together periodically since, but it's the music and mythology of the band that lives on. The elements they married together - blues, guitar virtuosity, screaming vocals and an overpowering rhythm section, created the template for so many bands that followed.
Black Sabbath
Black Sabbath started life as a Birmingham blues-rock band called Earth. But a name change and songs which showed a faint interest in the occult (which was popular at the time) altered their fortunes and their eponymous first album found plenty of fans, more for Tony Iommi's guitar work than anything, although the heavy, repetitive riffs caught the ear too.
However, it was with their second disc that they made their big break, on the song Paranoid, which is still a hard rock classic and propelled them quickly to stardom with its fast, simple riff and raw guitar. It was the start of a series of big albums and tours; even the departure of singer Ozzy Osbourne didn't dim their flame and Osbourne became a star in his own right.
Thin Lizzy
There were many other groups who took to hard rock like ducks to water, employing the riff and guitar work to try and become famous. One that did it with style was Thin Lizzy, from Ireland. Led by bassist and singer Phil Lynott, they first came to prominence in 1970 with a rocked up version of the traditional Whiskey In The Jar. From there they stayed on the fringes until the middle of the decade when The Boys Are Back In Town, Jailbreak and several others took them back to the charts and a period of great fame, especially on their tours.
Hard rock has proved to be the most enduring of rock's offshoots. Its riffs, such as Smoke On The Water or Whole Lotta Love, remain important parts of rock's lexicon and more than 30 years on, the guitarists who came to fame back then still remain iconic. Although many of the major performers were British, their biggest audiences came in America, where the music remains the staple of classic rock radio stations.
You might also like...