The History of Glam Rock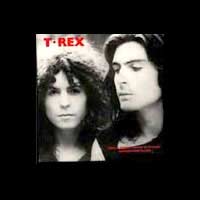 In pop music, the 70s arrived with a bang, albeit a fairly androgynous one. The first movement to stir the charts was glam rock, where musicians who'd previously tried to look so masculine now played up their feminine side, adding plenty of make up. The irony was that, as the appearance grew more feminine, the music became a bit harder and bulked up the testosterone. It wasn't any more glamorous in reality of course, but the name stuck anyway.
How It Began
It really began with T. Rex. Formerly know as Tyrannosaurus Rex, they were a hippie acoustic duo who'd scored one minor hit. But leader Marc Bolan reinvented himself as an electric rocker with the catchy Ride A White Swan and concocted a new, fey image to go with it. The record was a huge hit and others rushed to follow, sensing commercial opportunity in eyeliner and lipstick.
The other linchpin of the movement was David Bowie. He'd scored a hit the year before with Space Odyssey, but coming back with a band, by 1971 he was posing in a dress for an album cover and claiming he was bisexual - a daring move in those less liberated times. When he came back as Ziggy Stardust, an alien rocker on earth, glam hit rock full on and Bowie managed to convince both pop fans and serious rockers.
The Sweet
One of the first to jump on the new bandwagon and do it with great success was the Sweet. They'd been around for several years with no consistent success, but dressed in lamé and wearing makeup, with a set of harder songs, they found a series of chart hits that began with Little Willy and then Wig-Wam Bam, all leading up to the classic Block Buster, with camp spoken interludes from the bassist alongside vocal harmonies and raw guitars. With that they hit on a formula that they repeated on Ballroom Blitz and Hell Raiser, all of which sold very well. But it was pop success very much of its time and as the appeal of glam faded, so did the success.
Slade
Like the Sweet, the members of Slade had been jobbing musicians for several years, even trying their luck as a skinhead band. But it was with glam that they found their niche, racking up as remarkable 17 hit singles in five years, all great pop tunes, their titles cheerfully and deliberately misspelt. They were excellent musicians, often incorporating unusual elements such as violin into their music and in Noddy Holder they had a powerful, likeable frontman with a raw rock voice.
In their case, glam just happened to be the vehicle that propelled them; it was obvious they didn't take the image too seriously. They became perhaps Britain's biggest pop stars of the time, with a golden touch, lovable image - and fame that's lasted beyond glam.
Gary Glitter
Paul Gadd had already been around the music business for over a decade when glam hit and he seized on it for his latest attempt to become a star. Working with composer Mike Leander, he created the epic Rock And Roll, Parts One And Two, which were edited down to a single and he found himself on top of the charts. Heavy on the drums and low on the melody, with the words little more than a chant, it's proved to be a lasting anthem and the first of many, many hits over the next few years. On stage he presented a slightly comic figure, hair piled high, too much make up, a glitter suit and exaggerated platform boots in silver. But his minimalist style hit a nerve and transformed him finally, into a huge pop star for a short while.
His eventual fall from grace was complete when convicted of child pornography in 1999, he moved to Vietnam, where he was later sentenced to jail in 2006 on child abuse charges.
Roxy Music
It wasn't just pop that accepted glam. Even a progressive group like Roxy Music, a new outfit who combined futuristic leanings with retro ideas, made it a vehicle for their appearance, with singer Brian Ferry always elegant in a chic suit and sound manipulator Brian Eno decked out in feathers and heavy makeup.
The Others
Many tried the glam tack as a way of selling themselves. Bassist and singer Suzi Quatro did it well, making a few hit singles, as did Wizzard and Cockney Rebel. A few American acts, like Alice Cooper and the New York Dolls, adopted the look, too.
Although it lasted a while - until 1974- glam was a fad rather than a real movement. It did toughen up pop music a bit, bringing it closer to rock and it showed that pop didn't always take itself too seriously (a lot of it was done with a sly wink). Yet for all that, it produced some pop songs that have lasted, which is no bad thing at all. But like all fashions, it was bound to die.
You might also like...