The Rise & Rise of Elton John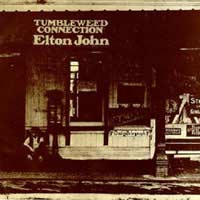 It's been a long way from plain old Reg Dwight to the superstardom of Sir Elton John, but it's a journey loaded with hit singles and albums, a veritable collection of modern classic pop music. It's a remarkable story – within just a few years he was a pop icon, a title he's retained ever since, a man who scored a hit single every year between 1970 and 1996, a record unlikely to be beaten. Friend of A-list celebrities and royalty, he's towered above the rock world for a long, long time. But it was in the 1970s that his artistic star shone brightest.
The Early Years
Dwight was an excellent pianist from a young age, attending the Royal Academy of Music on a scholarship when he was just 11. As soon as he could he turned professional, playing with a band called Bluesology and doing other work through the early 1960s. Eventually, wanting more, he auditioned for Liberty Records as a solo artist, but didn't make the cut. They did, however, give him lyrics from a young man named Bernie Taupin, and he began putting music to them. The pair wrote successfully for others, and John (he'd changed his name a couple of years before, taking the new one from two people he played with, saxophonist Elton Dean and singer Long John Baldry) released his first album, Empty Sky, in 1969.
Success
However, it was a year later when his career began to take off, after he teamed with a new producer, Gus Dudgeon. Your Song was the first big hit, along with the Elton John album, which was a success on both sides of the Atlantic. Within six months he'd followed up rapidly with another smash, Tumbleweed Connection, then a live album, a film soundtrack, and Madman Across the Water, before 1972's Honky Chateau, which put him over the top with both Honky Cat and Rocket Man. With a prodigious output and a string of hits, it seemed he had the golden touch.
His singles and albums continued to top the charts over the next three years. He began Rocket Records to release discs by others, including Kiki Dee (with whom he made the big hit Don't Go Breaking My Heart). In 1974 he even coaxed ex-Beatle John Lennon to perform with him onstage in New York.
Elton John didn't begin to slow down until 1976, after Captain Fantastic and then Rock of the Westies. By that point, a mix of things forced him to cut back. Exhaustion made him slow his frantic touring and recording schedule. He moved to just one album a year, but, in the light of his admissions of bisexuality (he wouldn't come out as gay for a long time) his fan base became divided, and although he continued to make the top 40, his records didn't rise to true chart heights.
Maturity
By then, though, he was so firmly established that there was never any danger of him disappearing. He was assured of continuing hits, and they kept on coming. Over the course of the 1980s, as a younger generation came along, John moved from pop star to celebrity and icon, with an appeal that crossed generations. But it was his re-recording of Candle In The Wind, made after the death of Princess Diana, that affirmed his superstar status, becoming the fastest-selling single of all time both at home and in the U.S.
Although the quality of his work has bounced up and down over the years, since 2001 he's returned to real critical respectability and to some commercial success.
You might also like...